Sampling imagery, text and sounds ..with poetic intent. Exploring dualities. Two-sidedness in the human condition.
Two, full frame-sync, animations are looped on 55″ monitors mounted on a moveable stand. The Rocket Machine is intended for near and far away exhibition spaces. New loops downloaded and updated via wifi in the exhibition space, from my studio, at set intervals.
A Project in flux ..forever changing.
---
..ANOTHER AUGUST in the ROCKET MACHINE (2022)
Waking up in silence ..so full of words, a soft descent into all the losses. Stopping, thinking into this silence, other visions comes, to each and every modifier. Here to learn who we are, in the midst of what we are not. Fitting our lightness against weight. Waiting for the the chance to smile again, with others that will not try. Influenced by strangers in unknown territories, the more we learn of physics, the more we are drawn towards metaphysics. Matter.. reduced to a point of visibility. Vibration so slow that it is perceptible to our senses. Time continues, it doesn't end. Time is what the clock says. We probably invented it, or the modes by which we think about it. Maybe time does not exist. Separation from others may just be an optical illusion. Everything is connected. As there can be no ′′ up ′′ without ′′ down ′′ or ′′ day ′′ without ′′ night, there are probably also two silences. Matching the frequency of a reality we desire, we can not help but receive that reality. Call it intuition, the solution comes to us and we don't know how or why. When something vibrates, everything resonates with it. What we want also wants us. The distinction between the past, the present and the future. Realizing there are flaws, we still persist in pursuing them. Challenging the grace. Testing this out. Presence takes many forms… because it has no form. Too satisfied with the present to contemplate the future, the ones before us will know they can leave, when the right time comes.
---
I like words. Words not used in gossip or for empowerment. The words I like are the intuitive orderings of thought.
I am probably better at expressing myself in Norwegian (..a language of poets, they say ) But, being reminded by the words of Nasreddin: "..in that language you will not go very far", I do the text-work in English. The translation in my head also, sometimes, helps me keep distance to traces of sentimentality, or theatricality in the wordings. And.. I don't have to do it twice.
Much in the same way as with the imagery and the soundscapes, I explore sampling-techniques in my text-based work. Trying to make meaning out of impressionable words passing me by. Not what is written, but what it makes me write.
The melodic soundscapes are typically made by sampling and manipulating my voice, or stem from recording-sessions where I make sounds on instruments I do not know how to play. Trying to be prepared for fortuitous sounds that may appear.
(I also keep an eye/ear on the wonderful free samples given away with some music magazines and public domain libraries on the net)
The visuals are sampled with digital still cameras at different time intervals, then processed in software.
---
..ANOTHER JULY in the ROCKET MACHINE (2022)
Beyond the words, a simple life of reason. Speaking.. without the means to comprehend. Struggling with other, elemental ideas.Merging sleeping and waking, …voicing that being. Eavesdropping on the infinite. Not a fate at all, if we can carry them to that meeting place. Guarding the future with precious memories of the past, there is no consolation for the comfortable man. To stand, lifelong, between the ears, and hear nothing but sound. A voice to the being. In the rhythms of the spaces. The pulse of contradiction and improbability. To keep the silent thoughts hidden, justified by its, is and is-not. Answers, given to questions before they are asked. Enriching the silence, they explain themselves. Basing this on evolution and intuition, coming or going in season is what we forget. Becoming a strange world of wanderers. Losing the battle for recognition in exploratory, not explanatory processes. Noticing the paths of birds in the air ..after they have flown past. An empty instant of nothing, remembering something to come. Nostalgic about experiences we didn't have, the highest aim is to have no aim. The chance of becoming is not the end of being. Explaining this to all life, or explaining nothing at all.
---
The first ROCKET MACHINE
Created in the late 90's. Showing twin loops from the projects : "4" – THE SEA – THE METEORITE MAN – and others. The name alluded to a more naive or optimistic period in the development of technology.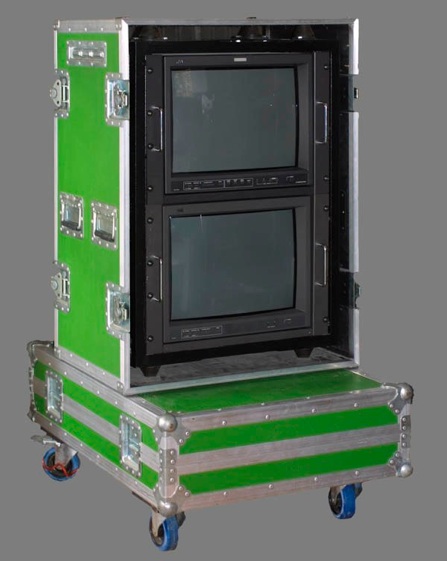 Inside the strongly coloured flightcase was a floating 16U rack with two 17" CRT monitors. When open, two DVD-players would hide under the Rocket Machine, positioned so that a pointed handheld controller could start both loops in a semi-synchronized way.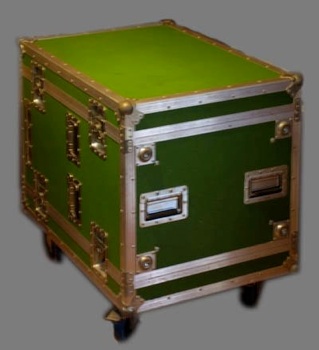 The Rocket Machine was also well suited for my remixes of old ephemeral film-footage found on the net. Much of it found in the Prelinger Archives.
As way leads onto way, other projects took my attention and this version of the Rocket Machine was not shown as much as I had intended.
I still like the retro-industrial feel of the monitors and the flight-case, so it feels good to present it here.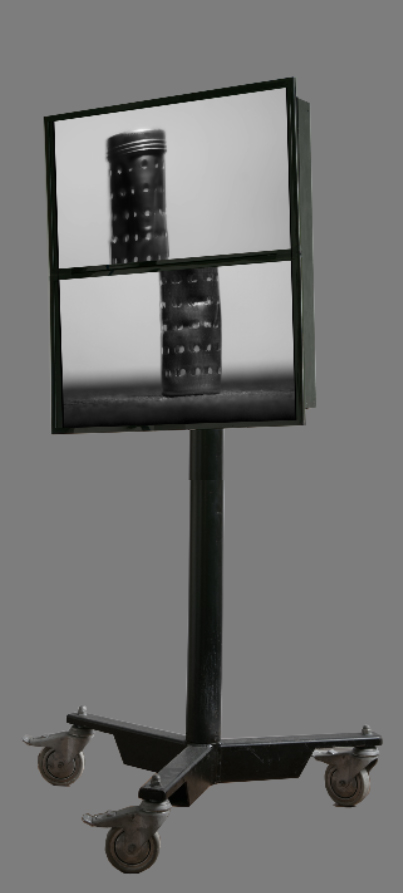 The next version had two 19″ flatscreen monitors mounted on a movable stand.
The two video loops now played out from RaspberryPi's in full frame-sync.
This also gave the extraordinary possibility to update and change, via wifi in the exhibition space, the content on the screens from my home studio, on a daily basis.
As in this project.
---
---
---
..ANOTHER JUNE in the ROCKET MACHINE (2022)
In the Obstructed obstructions. In all the parallell parallells. In all forms of human co-existence, two texts postpone a form of normality. A shorter or a longer now, sitting there. Not getting any attention. A curse and a blessing reflecting this, A two-sidedness in the longings. Waiting for the expected responses. Missing the misgivings.. Working with goals and intention, Constructed constructions will be there. Depending on impulses in the all and the everything. Trial and error. Loss and gain. Meeting him in me. We never actually loose a thing if it really belongs to us. And we don't really leave them, even if we throw them all away. Not for fame, ..or for fortune. We are not allowed to aim that low. Buildings appearing as instruments, becoming increasingly insular. In a life longing for itself, things are untying themselves from reality. Awkward awarenesses becoming a new physicality. Reaching out for help, not donations. Hearing this from the outside for the first time. To oversaturate a last term, where it is free. No recognition necessary. It would have been worth the 10 year effort, if only we could be ..exceptional. If only we could have dealt with maturing.. or aging. The wondrous obligations coming closer. However blind, the seeing man will «will» it so. Realizing that everyone we meet, is a participant in our life. Us.. more real than ..we.
---
..ANOTHER MAY in the ROCKET MACHINE (2022)
MAY-4 The fourth of four projects that was published on every Thursday in the month of May
Unlike any other day. Seeing an inscription. Wondering wether a poet will turn up, or a poem maybe. Waiting for either one. Have we any news from these ? Any of the memories ? Social insecurities in thermal underwear being just a bit more extreme. Could we have been, or should we have been. No spilling of this time. Seeking the complexities that we are all a part of. Saying the exact opposite. And still be true. Going with the flow, does not mean that.. when it doesn't flow, we will not go. What we call it, will be its name. That's the hard part. Abbreviated by the wind ..or the chimes. Briefly, but not quickly, held by the continuing continual's congested forms ..of real effort. Singular vision – lateral tension. Forgive these backwaters. Forgive these sins. Seeing this, confronting that. Longing for refuge. Willing it. Sitting in on these activities. Wondering about the regularity of it all. Measuring the measurements. Staying the sleepy solitudes. Then..submerged by it all, We halt. In our silence the flow of water can be heard clearly. Much containment being pushed outwards. The giving stops other achievement. The between places are just as before, and now the seasons and the times are in tune. In a short while we will hear the sound of water flowing through all of eternity. There will always be tomorrow.
---
..ANOTHER MAY in the ROCKET MACHINE (2022)
MAY-3 The third of four projects that was published on every Thursday in the month of May
When evidence contradicts sensibility, Increasing the feeling of loneliness. Prolonging our innocence, ..lowering our expectations. Repairing the logistics from our childhood. Resorting to recognisable terminologies. Healing them ..instinctively. Human awareness, Hiding their heads in the sand.. Joining us in this intellectual ecology. Will they reveal the flawed reasoning ? Are they there now ? Is it comforting ..for a while ? Sidestepping adults and their children. ..Always keeping to the right of their center. Suggesting ten desperate words that comes to mind. «Quembarrassed» for instance is not a word longing for itself. Something to un-consider. A will to cover them. ..Intonations says it all. Sitting there forever. No time limit. Interesting new attentions always seizing the opportunities. We cannot defend the cost of livingthese lies. ..and the lies of others. 2000 years of disbelief rendering the surface. Have we forgotten the combination of cold milk and a warm bed ? We don't know the plans. And don't bother to wonder who's world it is. If you are handsome, you don't have to have personality. Not being part of their conversation. The mental ecologies are in all beings. The way people talk there are no metaphors for these endings. What is the use of language, they say, ..not just doing things. On a cosmic journey, so much is given and so much taken away.
---
..ANOTHER MAY in the ROCKET MACHINE (2022)
MAY-2 The second of four projects that was published on every Thursday in the month of May
In the beginning of everything, at the end of everywhere, we will not disturb your sleep and we don't want you to disturb ours. As a younger self we thought we knew. Now we know we actually believe. Some have clocks and others have time. It has been a Paris to Paris kind of day. Studying for an exam, something else turns up, is learned, and all ends well. In the arts ..and in the intelligence. The man speaking ..no longer understand the sheets of paper containing singular words, that keeps moving. Trying to reenter these sentiments, Being afraid of a square's threatening surface. Hesitant words that keep you waiting for them. We did not think to write them down before. Memory's waste paper basket is no longer the audience. One does not need many pages to prove ones worth. Structure, is a system formed by the interrelationships of individuals. We all are a moving system, like the chaos that helps define our formed self. A grid lies as a fixed structure and creates order. But the lack of freedom of movement is both a frustration and a sticky place. Something luminous, like snow or silver lift on their wings and fly. Unspeakable.. as longings are. Needing to be told into a larger narrative, they do not write themselves. Everything is about something else
---
..ANOTHER APRIL in the ROCKET MACHINE (2022)
Also MAY-1 The first of four projects that was published on every Thursday in the month of May
Floating words, ..on water. Bridges passing overhead. Just another perception of normality. Not feeling ill,or sad. Living in a different chaos. Man so like himself, at all times and in all places, that history will teach us nothing new. Recognizing that illness is ..on us, for a while. Later something else will be ..on us.The flockings believing in this one-sidedness. Seeing what we are looking for, looking out for our expectations. Crushing the numbers. A right and a wrong in this chaos.The main answers, when language fails. When domination is the objective, there is a place for poetry. Being free, unpredictable and incomprehensible. Needing the two-sidedness. Something deep thats stirs in us . ..the painful mission of discovering human nature's constant and universal principles.Thinking longer thoughts, ..listening to a quieter self, ..being told what to do. In poetry there is always war. A sea of soil burying all that wants to be forgotten. Every grain of dirt turned, exposing it to other horizons. Letting whomsoever believe in whatsoever. A place for prayer maybe. A pack of cards being constantly logically entangled. Ultimately it is about oneself. Plagued by these inconsistencies. The lack of respect for something. Sitting there. Being both good and terribly bad at this turbulence. Wherever or whatever. Naive, blind and insular, ..It is from everywhere and always. Even if it is a part of our culture, we don't have to embrace it. ..Everything is local.
---
..ANOTHER MARCH in the ROCKET MACHINE (2022)
The dreamers dream. Defining ourselves. Rebuilding the memories. The obvious always challenging the obvious. Not where you are, but where you are going. No echoes, or references. No rationale. No new thoughts. Deference delivered at high quality. 'When they see exactly what we see and draw other conclusions. Fresh thoughts, new insights. What is to be contested. A lasting chance for redemption Witnessing other people failing to believe in this. A presence in the expression. In its own structure, ..where chance creeps in. Precise principles. Will it be heard. Will it be interrupted. ..Will it be better ? Brilliant intuitions seeking something missing. Missing something left behind. An image of something is just an image of something. Only when insisting on carrying meaning, can it be debated as true or false. The presence in still waters, and why all this strife is called AI (artificial intelligence) What tunnel to go into. The distinction between the encoder and the ruler. Ample time and pleasant surroundings never help in translating the long, early morning thoughts into useful language. Not being distrusting or discouraging. To be able to back up any claim. To be such a man. Different lies coming into the conversation. Furthering the ones that observes other dualities.The polarities of heart and mind, Making everything plausible, and everything alright.Yourself being the unknown border. The last appearance in rooms that substitute each other. Traveling longer than the do's and the dont's Not what you are looking for. f you lean in, there is information there. A hamster wheel of grants and sales. Going down that road you find it is systemics that gets mentions. Too shy to dance. Not identified by anything. The day-blind mornings grow within. A language of confrontation filling the thoughts. The altered negatives whispering these longings. Saving the world, ..losing themselves.
---
..ANOTHER FEBRUARY in the ROCKET MACHINE (2022)
Learning a new language or encoding an already mastered one., Each meaning take on a distinct personality. Taking meaning out opens for two-sidedness in this communication. Translating into other languages will always try to tear this down A cluster before it is a cluster is actually a method. Multidimensional clusters are just clusters of clusters. Implementing a language we ask for nothing in return for anything ..everything returns to value, everything leads to evaluation. Every piece returning to something. True and false are simple conditionals and we're still writing a program that writes a program. Making schedules that create schedules.It defines a function but does not execute it. Numbers are equal if their values are equal. If you know what you're looking for you could find it in the implementation of everything. You can let readers get past the pattern and closer to the intentions. Sometimes it's hard to balance words that pass through an interpreter and are also easy to understand. In unusual circumstances language also teaches us how to smile again. Calling on the wind.. to learn how to do jobs we already know how to do. But this is not where we are going this is not where we are.
---
..ANOTHER JANUARY in the ROCKET MACHINE (2022)
Thinking about learning something new and something old ..at the same time. To quietly say this aloud, before the thoughts of others fills the mind ..with strange ..other endings ..already half present there. Searching ..without haste, for a spiritual elsewhere. Departures we cannot go back on. Remembering things we never seem to forget. Just saying no, will induce this in other rooms, and for a while it loses all familiarity. We then experience our differences through the open doors. Interfacing with the under-stroked text of printed words in holy books. Words not meaning more than they do. And not understanding more than they say. Floating the words ..on the surface of flowing water. That which passes for everything jumping into the conversation. They are here with us and yet belong not to us. There is nothing to change into ..and nothing to be changed by. We all saw it ..saw it as trees do. A dream already ended. Relations are like nations.. They rise and they fall. Authority or personalities will not keep them alive. The presence, moving elsewhere. Should we follow this.. should our path be relentless. As we travel, solutions come quietly. Seeking us out. Did we ever consider to go alone ? Whatever the limitation, here it is measured. Living a life longing for itself. Having a care for the content in this chaos. Recognizing that inside the sound and the language there is a living silence. Everything is connected. But this is not what we seek.
---
---
---
---
---
---
---